Individual, team and group training with a focus on confidence and presence when speaking in front of others, job interview preparation, energy management, as well as leadership and effective communication
Starting at 60 minutes
Daily and weekend workshops
Semester classes
On-site or online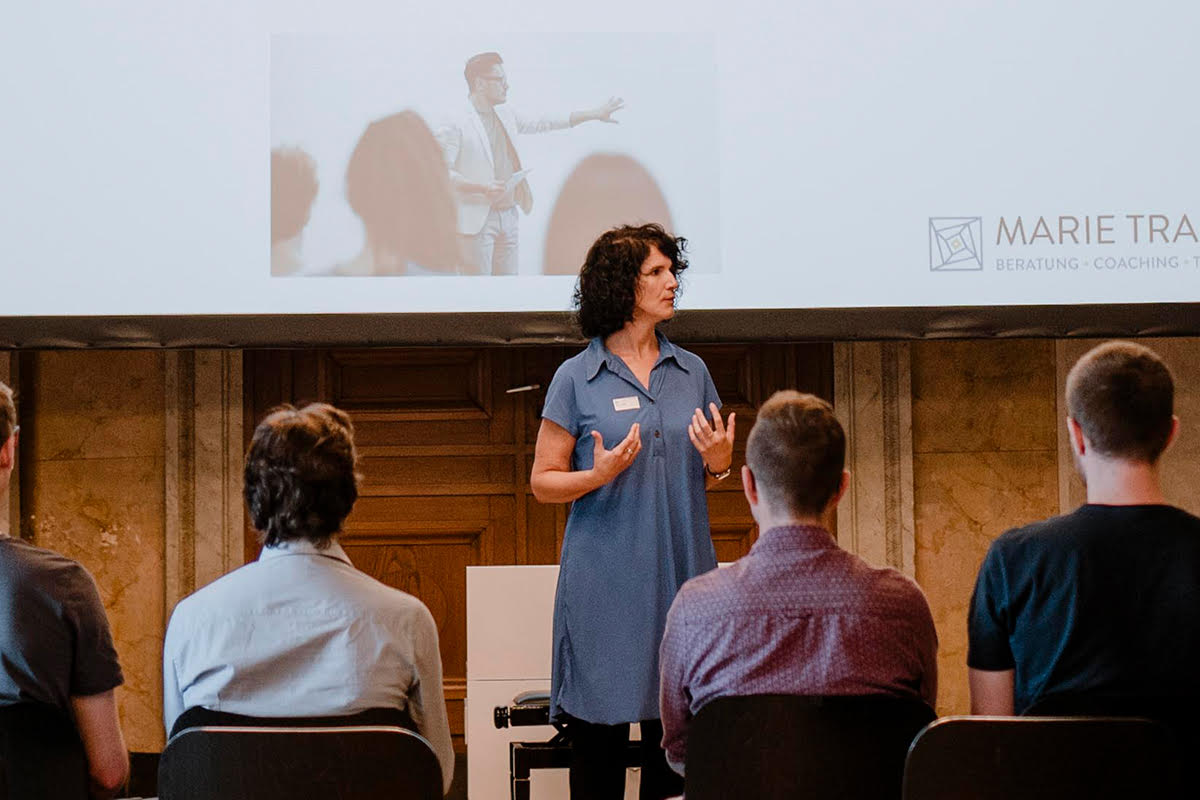 Compendium of current workshops (customizable):
Presenting authentically and at ease
Most people don't speak in their appropriate voice range and thus strain themselves unnecessarily when speaking. In addition, very few people know how to control their breathing and quickly lose their breath when speaking. This often increases nervousness before and during presentations or speaking in front of an audience.
This practice-oriented workshop therefore focuses on strengthening breathing and voice exercises as well as body work for authentic and convincing speaking without too much effort. Participants practice controlling their vocal expression and using it in a way that is beneficial to them. They will not only learn breathing and voice techniques, but also practical exercises for everyday life. The focus is on breathing consciously, finding your authentic voice, posture and charisma. You will learn the most important rules of pronunciation and how to coordinate your voice and manner of speaking. Speaking accurately improves rhythm and accentuation. This will have a lasting effect on the way you speak.
For everyone who wants to strengthen their vocal expression, articulate on point and remain confident and relaxed in any speaking situation. If you know how to use your voice, you will automatically gain more self-confidence and presence.
Part II Focus Speaking - can be booked individually
Am I communicating what I intend to? This question is at the forefront of the speaking workshop. The practical focus is on presentation oneself with ease through rhetoric and storytelling.
Communication is also about self-presentation. Only when speakers have gained our trust are we ready to follow them into their world of thought. Charismatic speakers are remembered for their captivating stories and memorable images, while radiating effortlessness and competence.
Appearance and rhetoric are evaluated from the first second. Those who are only concerned with their own stage fright will irritate the audience.
Techniques are practiced to get a grip on the nervousness and to strengthen expression, as well as speaking variety, body language, articulation and individual verbal expression.
How do you create images in the minds of the listeners? How do you use breaks effectively and yet authentically? How do you strengthen self-confidence and the ability to improvise? All this is developed in the workshop and tried out in individual presentations in front of the group (voluntarily, of course). This serves as an exercise so that you can fall back on what you have learned in "stressful situations" and speak in a relaxed, calm and yet lively and passionate way.
Presenting in English (for German speakers)
Workshop for participants with a good command of English who need to present in English and would like to develop more confidence doing it. The workshop will be held in English and German.
Giving an excellent presentation is difficult enough when it is in your mother tongue, let alone when done in a different language altogether. With the steadily rising demand for excellent English skills in the workplace comes the aptitude to give a presentation in English as well. The ability to give a dynamic, strong presentation in English is a must for obtaining higher positions in business. This hands-on workshop is designed for non-native speakers and will provide you with some of the key language used to build a framework for any presentation in English. Participants will put their learnings to use and will get feedback on accomplishments and improvements.
In this workshop, you will
learn how to introduce yourself with confidence and clarity,

get tips and tricks on how to get to the point in Business English,

gain a better understanding of how to use the English language to make yourself more clearly understood,

improve pronunciation,

practice thinking on your feet in English,

become more comfortable in a bilingual environment,

continually present in front of the group and get honest and appreciative feedback.
Additional workshops at academic institutions with Lukas Bischof Hochschulberatung